Our comprehensive design and installation process offers you fantastic value for money and total peace of mind
---
---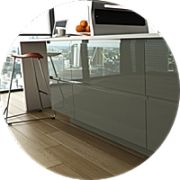 Consultation
The initial consultation is the important first step towards planning your new Kitchen or Bathroom Design and Installation.  We are happy to work off your own measurements, but we offer a more valuable service to you through our Home Measure and Design Service.  For a small fee, which is fully refundable, we visit you at your home and take all relevant measurements of your existing kitchen or bathroom.  This enables us to provide accurate and technically feasible designs for your new installation.  We consider the practical and physical constraints, and gain a thorough understanding of your needs and style.  Your kitchen and bathroom designer remains your single point of contact throughout the project.  All relevent details, both large and small, will be transferred from the design stage through to the installation process.  Our Measure and Design Service helps you achieve the best possible solution for the best possible price.
---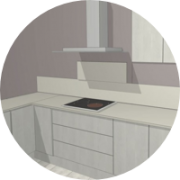 Design
After the home visit, we use 3D design software to prepare your kitchen or bathroom plans.  Where possible, we will offer a variety of different layouts for you to review.  Our designs will maximise the available space and propose stylish yet practical solutions.  We can solve everyday problems such as limited storage or insufficient water pressure.  We will also help you select the correct products to achieve your desired look.  We use our extensive knowledge of the products in the marketplace to present the best options for you.  The designs are accompanied with a fully itemised estimate, helping you to make the best decision that suits your budget.  There are no hidden costs, with all aspects of the scope of works clearly detailed.
Our Measure & Design Service is your first step towards the successful installation of a fabulous new bathroom or kitchen.
---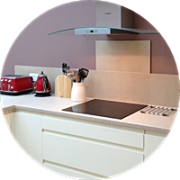 Installation
A full technical survey is carried out well before any work is started.  This enables us to eradicate problems and ensure smooth implementation of your new kitchen or bathroom.  The survey is attended by your designer as well as our builder/carpenter and plumber. Everything discussed at the design stage is transferred to the installation stage.  A detailed Job Sheet is written by the designer and approved by the customer.  This is then distributed to all of our Installers.  Before any work is commenced, a full working specification has been agreed by all parties, ensuring a smooth and successful project.  Every product is subjected to our own Quality Control process, so that any chips, nicks and dents are picked up and corrected well before we start work.  This avoids frustrating delays and gives you a stress-free installation.  We work together with our customers and installers to ensure that every job is carried out professionally and successfully.
Our supply only service includes many of  the benefits of our complete design and installation service:-
Home measure (or we can work from your own measurements)

Computer generated 3D layout plan.

Advice on product selection.


Fully itemised estimate of your chosen products.

Quality control – every product is checked by us prior to delivery to you.

One delivery of all of your products on a convenient day for you.

We welcome enquiries from Trade customers – if you are a plumber or interior designer please contact us for more details.
Call us now on 0118 932 0089.

"We would like to say thank you for all your time, care and patience; and to say we are truly delighted with the work you have done at every level.  Your standards are excellent.  Thank you from us both."

"I'm very impressed by the design service offered by the Tile & Bathroom Place.  We had three difficult and fiddly areas requiring bathroom installation and Lisa put a great deal of thought into the layout and fittings to ensure that the rooms are both practical and beautiful."

I am very impressed with your project management operations and the speedy way you remedied a couple of plumbing problems. I have recommended you to many friends.

We are very impressed by the attention to detail of all workers. It has made for a great finish to all 3 rooms. We also liked the fact that all workmen left the house each night as they found it in the morning. They were all very friendly and easy to have around the house.